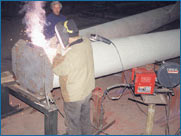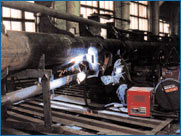 ● Welding production of the enterprise has been certified by the German Ò U V NORD for conformity to the requirements of the following European standards:
- D I N 18800-7 (welding of steel structures),
- D I N 4113 (welding of aluminum structures),
- Å N 729 (European welding).
● Welders of the enterprise have been certified by the German Ò U V NÎRD, according to Å N 287.
● Metal structures are welded by certified welders, who use modern semi-automatic machine tools of Frînius, Linñîln, Ìåssår, Ìigàtrîniñ brands in the protective gas medium and apply state-of-the-art filler materials.
● Critical welds, which require NDT control, are checked by certified quality inspectors, who issue a report on the test results.